AUTOMNE 2020


Parc Offsite est un nouvel espace d'exposition et un bureau fondé et opéré par le commissaire montréalais Eli Kerr et qui ouvrira ses portes en septembre 2020 dans le quartier Mile-End de Montréal.
Situé dans un local avec vitrine de 40m2 sur l'avenue du Parc, qui fut guise d'appartement avant d'être converti en espace commercial dans les années 1970, le projet met l'emphase sur la modestie et la petite échelle du lieu comme moyen de créer des rencontres intimes et percutantes entre le public et les pratiques des artistes et des commissaires.
Partant d'un modèle hybride à but non lucratif, le bureau cherche à développer des modèles qui défendent les artistes tout en avançant dans un paysage culturel nouveau et incertain. Grâce à une programmation d'expositions d'une durée d'un an, le projet réunira des artistes locaux, nationaux et internationaux qui travaillent sur un large éventail de pratiques matérielles, spatiales et d'images en mouvement. Au-delà de son programme d'exposition, Parc Offsite sera également à l'origine de diverses initiatives telles que des résidences pour artistes et conservateurs, une publication annuelle dans un journal, ainsi que des projets qui émanent de la ville et de l'étranger.
Parc Offsite sera ouvert tous les jeudis, vendredis et samedis de 12h à 18h et sera également ouvert aux visites sur rendez-vous.
Parc Offsite est situé sur le territoire traditionnel non cédé de la nation Kanien'kehà:ka, un lieu qui a longtemps servi de lieu de rencontre et d'échange entre de nombreuses Premières nations, notamment les Kanien'kehá:ka de la Confédération Haudenosaunee, les Hurons/Wendat, les Abénakis et les Anishinaabeg. Nous reconnaissons et respectons les Kanien'kehà:ka en tant que gardiens traditionnels des terres et des eaux sur lesquelles nous vivons et travaillons aujourd'hui.
FALL 2020
Parc Offsite is a new exhibition space and office founded and operated by Montreal based curator Eli Kerr which will open this September in Montreal's Mile End Neighborhood.
Situated in a 40m2 storefront on Avenue du Parc, which was formally an apartment before being converted to a commercial space in the 1970's, the project emphasizes an embrace of modesty and small scale as a way to create intimate and impactful encounters between the public and the practices of artists and curators.
Starting from a hybrid non-profit model, the office seeks to develop models that advocate for artists while forging forward in a new and uncertain cultural landscape. Through year-long exhibition programming the project will bring together local, national and international artists who are working across a wide range of material, spatial and moving-image practices.
Beyond its exhibition program, Parc Offsite will also instigate a variety of initiatives such as residencies for artists and curators, an annual journal publication, as well as projects that emanate outwards into the city and abroad.
Parc Offsite will be open every Thursday, Friday and Saturday from 12-6 while also being open for visits by appointment.
Parc Offsite is located on the unceded traditional territory of the Kanien'kehà:ka Nation, a place which has long served as a site of meeting and exchange amongst many First Nations including the Kanien'kehá:ka of the Haudenosaunee Confederacy, Huron/Wendat, Abenaki, and Anishinaabeg. We recognize and respect the Kanien'kehà:ka as the traditional custodians of the lands and waters on which we live and work today.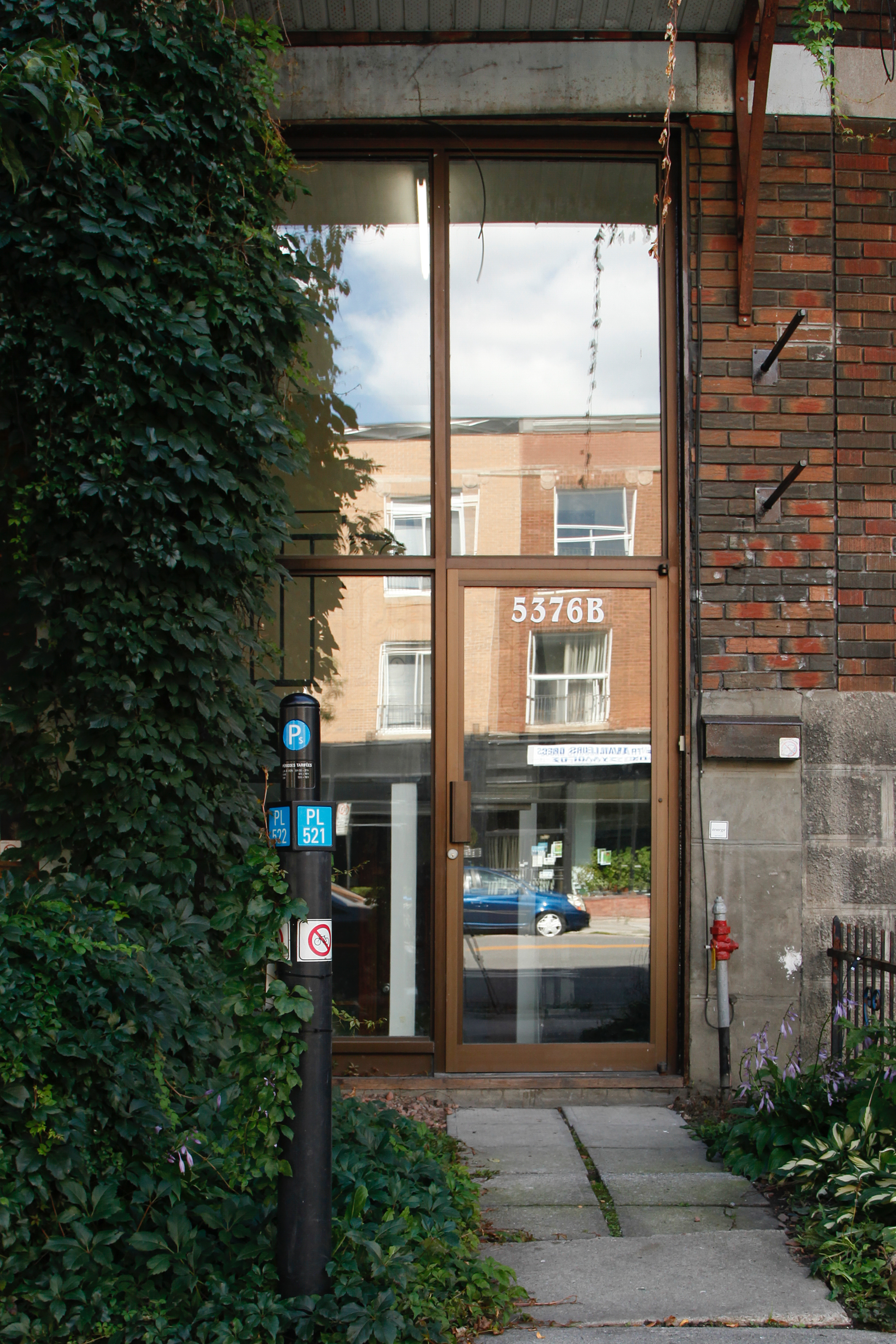 5376B Avenue Du Parc
Montréal, Québec, CANADA
H2V 4G7
Contacter: Eli Kerr
elijohnkerr@gmail.com
Accessibilité
Nous regrettons qu'un escalier intérieur puisse présenter des difficultés pour certains visiteurs. Si nous sommes en mesure de fournir du matériel supplémentaire sur nos expositions, n'hésitez pas à nous envoyer un courriel.

Eli Kerr (né en 1988) est un commisaire et écrivain canadien basé à Montréal. Avec un intérêt et un engagement pour le lieu, l'échelle et les histoires du site, il a passé les 7 dernières années à Montréal à établir des contextes indépendants qui explorent les moyens de soutenir les artistes à travers la réalisation d'expositions, le texte et l'organisation.

En 2015, il a cofondé VIE D'ANGE avec Daphné Boxer. Le projet était situé dans un garage de carrosserie automobile de 3 400 pieds carrés destiné à la démolition dans le quartier Marconi-Alexandria. Leur programme d'exposition mettait en avant de nouveaux projets séquentiels spécifiques au site, réalisés par des artistes locaux et internationaux, qui s'engageaient dans l'histoire et l'avenir spéculatif du site.

Ses écrits ont décidément pris la forme de contributions à des expositions et des projets d'artistes. Ses essais récents comprennent des contributions au projet solo de Vikky Alexander avec TrépanierBaer (Art Toronto 2019), Un ouvrage sur le travail de Pierre Dorion, publié par Occurrence (2019), Media Exhausts Hardware pour Chris Dorland à Super Dakota Brussels (2019) et The Tradition of the Untraditional pour Du côte chez Soon à la Galerie René Blouin (2018).

Kerr a effectué des résidences de conservation à l'International Studio and Curatorial Program (ISCP) New York en 2017, ainsi qu'à Rupert à Vilnius Lituanie (2018). En 2019, il a obtenu la Hnatyshyn Foundation-Fogo Island Arts Young Curator Residency pour les conservateurs canadiens de moins de 30 ans. Kerr termine actuellement ses études supérieures en études curatoriales à l'Université de Toronto, où son travail de thèse porte sur les héritages et les implications de la " Guerilla Television " et des premiers arts vidéo à la confluence du journalisme, du divertissement et de l'activisme.



Eli Kerr (b. 1988) is a Canadian curator and writer based in Montreal. With an interest and commitment to place, scale and the histories of site, he has spent the last 7 years in Montréal establishing independent contexts that explore ways to support artists through exhibition-making, text and organizing.

In 2015 he co-founded VIE D'ANGE with Daphné Boxer. The project was located in a 3,400 sqft auto-body garage slated for demolition in the Marconi-Alexandria neighborhood. Their exhibition programme foregrounded sequential new site-specific projects by local and international artists that engaged with the history and speculative futures of the site.

His writing has decidedly existed as contributions to artists' exhibitions and projects. Recent essays include contributions to Vikky Alexander's solo project with TrépanierBaer (Art Toronto 2019), Un ouvrage sur le travail de Pierre Dorion, published by Occurrence (2019), Media Exhausts Hardware for Chris Dorland at Super Dakota Brussels (2019) and The Tradition of the Untraditional for Du côte chez Soon at Galerie René Blouin (2018).

Kerr completed curatorial residencies at International Studio and Curatorial Program (ISCP) New York in 2017, as well as Rupert in Vilnius Lithuania (2018). In 2019 He was awarded the Hnatyshyn Foundation-Fogo Island Arts Young Curator Residency for Canadian curators under 30. Kerr is currently completing his graduate studies in Curatorial Studies at the University of Toronto, where his thesis work focuses the legacies and implications of 'Guerilla Television' and early video art at the confluence of journalism, entertainment and activism.